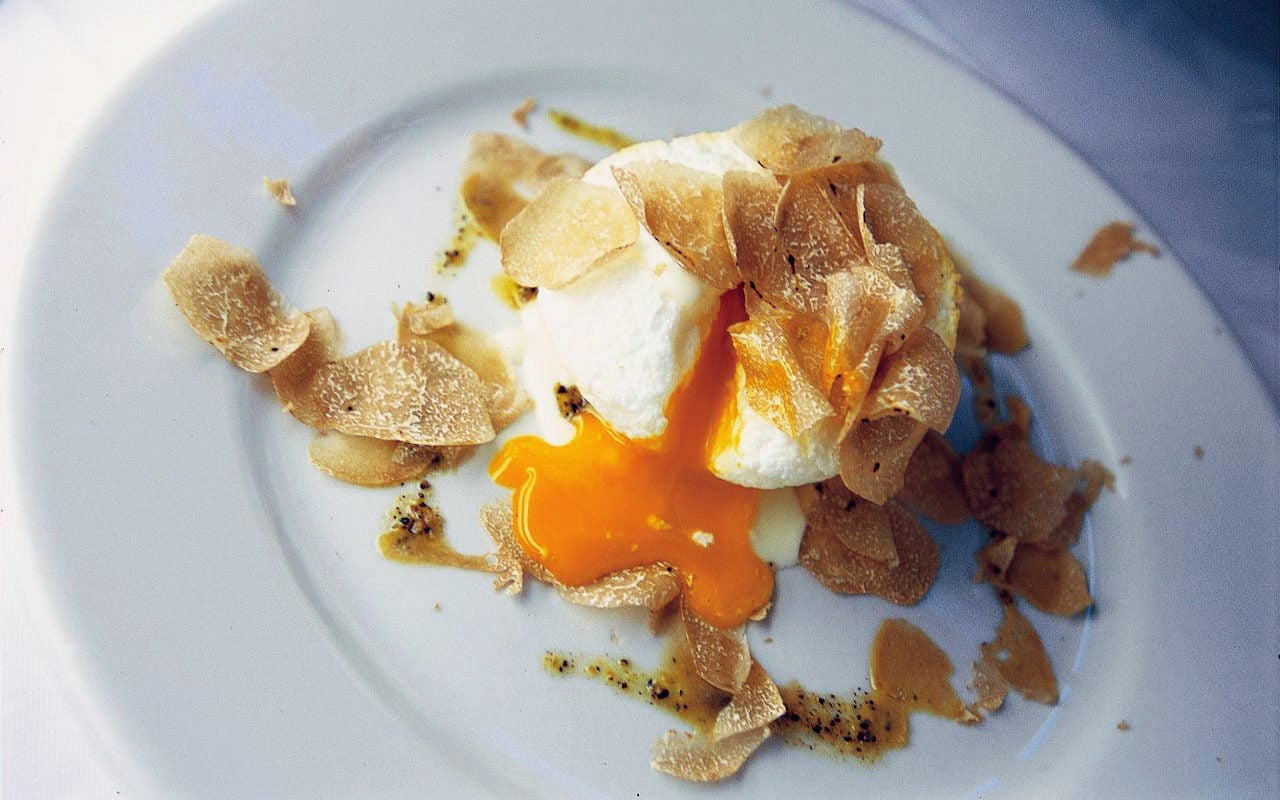 Amerigo dal 1934, a trattoria located outside Bologna, is home to a mushroom whisperer.
The ravioli were dressed with melted butter churned from the milk of the Bianca Modense cow breed. Locally produced Parmigiano-Reggiano aged 36 months was dusted over the finished dish and came from the milk of the same cows. The pasta itself was made from sheets of egg-enriched dough that were rolled by hand with a long wooden mattarello (rolling pin) until they were thin enough to see through. Inside the triangular ravioli was friggione, a stew of onions and tomatoes gently simmered for hours until soft and sweet. The combination of the tender fresh pasta, earthy filling, and nutty cheese, all bound by butter, was the essence of the region's cuisine.
Amerigo dal 1934, located in Savigno, in Emilia-Romagna, Italy's most celebrated region for food, is world-famous for its truffle and wild mushroom dishes, but for me the most impactful dish I have ever tried there was those ravioli di friggione con burro e Parmigiano—and not just because the order came on its own piatto del buon ricordo, a commemorative ceramic plate, which I got to take home with me. It is dishes like this one, which you won't find anywhere else, that keep me coming back every time I visit Emilia-Romagna.
A sign welcoming visitors to "Truffle Town" sits at the edge of the narrow road that leads into Savigno, a village 40 minutes' drive up and down the hills outside Bologna. Most of Savigno's 3,000 inhabitants are, like Alberto Bettini, Amerigo's owner, multigenerational residents. Many have inherited family businesses, learning from older generations while modernizing for a contemporary clientele. At Amerigo dal 1934, Alberto does just that.
His grandparents Agnese and Amerigo opened the trattoria/dispensa/locanda (rustic tavern/shop/hostel) 85 years ago in one of Savigno's most ancient buildings. The structure, which sits just off the village's main piazza, is a centuries-old, multistory building made of stone and wood. It was once a family home with attached stalls that were used by visiting farmers when they came to town on market days. The Bettinis eventually transformed the converted house into a business, serving fresh pasta and simmered meat dishes in the trattoria and selling tobacco and supplies in an adjacent shop; the locanda was composed of some basic rooms to rent.
Under Alberto's leadership, the locanda was renovated to include five rooms, including a junior suite in a former hay loft. Now visitors to Amerigo can sleep in absolute comfort in rooms outfitted with antique wooden and wrought-iron furniture and hung with contemporary art. The fusion of history with modernity mirrors the experience in the trattoria.
Visitors to the trattoria enter through the dispensa, where truffles are sold and shelves are stocked with Amerigo's own balsamic vinegar, liqueurs, and traditional sauces. Then they are ushered to one of the ground-floor or upstairs dining rooms. Each eclectic room is decorated differently, and some are painted with tromp l'oeil frescoes by the late Gino Pellegrino. These paintings depict nature scenes inspired by the forests around Savigno—truffle-hunting dogs peeking out of split tree trunks and a kid with a mushroom cap hat riding a tricycle are among the trippy subjects—and hint at ingredients that appear on Amerigo's changing seasonal menu.
Regardless of when one visits, the menu is populated with Emilia-Romagna classics, like fresh pasta dishes dressed with concentrated ragùs or meaty mains that don't shy away from fatty cuts. From October until January, tagliatelle (thin strands of hand-rolled pasta), tigelle (a puffed flatbread), and passatelli (pasta made with bread) are enhanced with the addition of white truffles, which are hunted by dog and man in the nearby woods. From January to April, marzuolo truffles are grated over dishes, while scorzone truffles appear nearly year-round except around May. It's not unusual to find the table next to yours filled with local truffle hunters, and on more than a few occasions I have encountered Maurizio Lorenzini or his father in law, Adriano Bartolini—Savigno truffle royalty—holding court in an upstairs dining room.
No one should visit Amerigo expecting to find the same dish twice. Some are served only a few days a year, while others come and go with the seasons. And just as each menu is a trip through Savigno's seasonal rhythms, its dishes are also anchored in a specific time; the year they first appeared on the table at Amerigo is listed beside it.
The famous Uova Amerigo dates back to 2002 and features frothy eggs and runny yolks accompanied by truffles, mushrooms, and aromatic herbs from the nearby hills; passatelli with river shrimp and nettle pesto are a year younger; chestnut gnocchi with pheasant ragù and porcini mushrooms were first served in 2007. Each date is a reminder of the years of tradition Alberto Bettini and his family have guarded for nearly 85 years.