Pizza Pizza, Bubbles Bubbles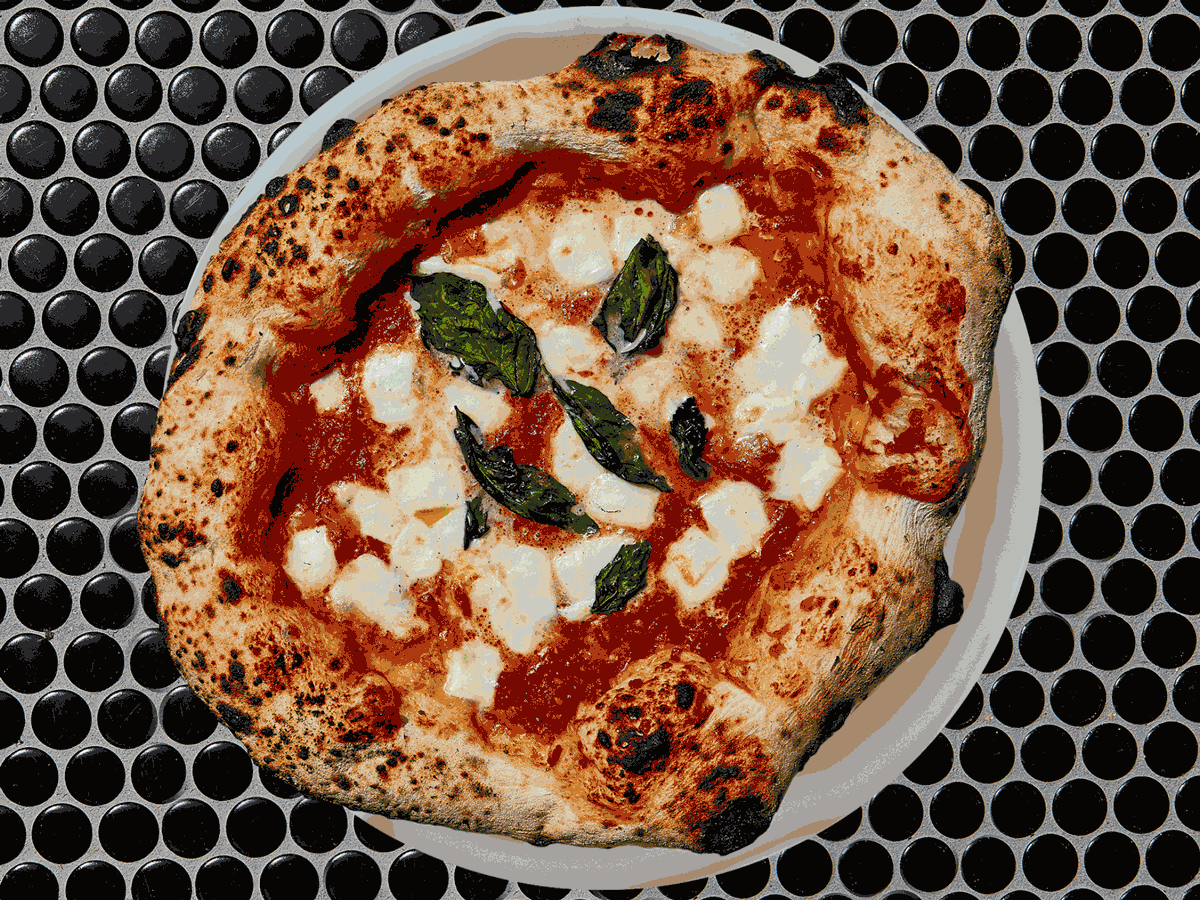 How a sparkling wine from Emilia-Romagna makes, basically, all slices taste better. Even the Papa John's ones. 
My Lambrusco awakening happened at a BYOP party—that's Bring Your Own Pizza, by the way, a style of potluck I cannot recommend more highly. Imagine it: a raucous gathering of 50 people, with long tables lining the living room and kitchen, each piled high with boxes of pizza. Fancy, $25 wood-fired Neapolitan pizza, greasy Papa John's: All styles were welcome. Latecomers to the party replenished our dwindling (and, frankly, congealing) pizza reserves with fresh pies. It was the party that kept on giving.
The beverage game was as ad hoc as the pizza game that night—beer and wine of every persuasion—but I kept returning to one thing: a bottle of dark, purplish-red Lambrusco from Emilia producer Camillo Donati.
I'm usually a "drink what you like, wine-geek pairings be damned" type of gal, but I couldn't deny that the Lambrusco made every slice of pizza taste better. There was the plain cheese New York style from Arinell in San Francisco. Handmade, artisanal soppressata with Calabrian chiles from Emilia's in Berkeley. Some chucklehead even brought Little Caesars. The soft bubbles and deep cherry of Donati's Lambrusco elevated them all.
I knew then I had found my perfect pizza wine. Pizzas of past flashed before my eyes: chain pizza with a fountain Coke, dormitory pizza with my first legal beer on my 21st birthday. Back to the present: I was slamming pizza, drinking a foamy alcoholic beverage—admittedly reminiscent of Cherry Coke—and dancing in a hot room packed with my friends. But at the same time, I was a sophisticate. I was drinking a wine with provenance: complex, confounding. Funky, fruity, and earthy all at once. Donati was the promise of adulthood in a bottle.
This wasn't industrial plonk from my local supermarket. The ubiquitous grocery-store brand, Riunite, has been the top-selling Italian red wine in the United States for more than four decades, which means we've probably all had the stuff. But the Donati was a soulful, beautifully made Lambrusco. What made it so great?
Lambrusco is a variety of red grape that grows in several regions of Italy, but most famously in Emilia-Romagna. It can be frizzante (semisparkling), spumante (sparkling), amabile (semisweet), or dolce (sweet). The style has been around since antiquity—way before the Champagne method gained popularity in France. Giovanni Pagano, the founder of the Italian-wine import company Scuola di Vino and a native of Modena, explains: "The reason why we have sparkling wine in Emilia is because back in the day, winters were colder." So after winemakers bottled their wine after harvest in the fall, "wines wouldn't finish fermentation properly and would restart fermenting the following year in the spring." The result? A softly effervescent wine refermented in bottle.
At the peak of its popularity in the 1970s and 1980s (call it the rosé of the Miami Vice era), the American market was flooded with cheap, treacly Lambrusco that had more in common with Coca-Cola than traditional sparkling wine. What's more, producers stopped making it in the more labor-intensive "ancestral" way, and instead used the Charmat method: dump wine into a giant tank, trap CO2 released during fermentation to pressurize the tank, and voilà, bubbles. (This is how most mass-produced prosecco is made, too.) To Pagano, "Charmat doesn't have any soul. You can make Charmat wines to order. But once you bottle that wine, it starts to die. I find the wines to be boring and on the sweeter, rounder side. There is no real flavor evolution in them…. All you have to do is try an artisan Lambrusco to tell the difference."
The good news is that today, among a small clutch of winemakers in Emilia-Romagna, there has been a backlash against industrial wines and a resurgence of high-quality, thoughtfully and naturally made Lambruscos, many of which Scuola di Vino imports to the United States. Producers like Donati, Cà de Noci, and Vittorio Graziano are farming their grapes without chemicals or pesticides and fermenting their wines using more traditional methods.
Many of these producers are making sparkling wines from grapes other than Lambrusco, which is just one of many varieties that flourish in the region. Sam Anderson, the wine director of New York City's Una Pizza Napoletana, encourages his diners to explore the wider world of Emilia sparklers, made from grapes like malvasia, barbera, and ortrugo. Anderson is especially enamored of skin-contact sparkling wines from the region, which have become his calling card.
Skin-contact wines, some of which are referred to as "orange wines," are wines made from white grapes—like malvasia or spergola, both whites that grow in Emilia—vinified like red grapes. In other words, after the white grapes are pressed, instead of removing the wine from the grapes' skins immediately—which is typical with white wines—the wine is left in contact with the skins for some period of time. The wine picks up some of the color and tannins from the skins, resulting in something in between a white and a red.
The seemingly contradictory mix of savoriness and fruitiness is one of the things I love best about Lambrusco—and it turns out you can get those same notes from a frizzante white wine made with skin contact. Just try Podere Pradarolo's Vej Brut, a sparkling, skin-contact malvasia, or Elisabetta Montesissa's Bonissima, a sparkling, skin-contact malvasia-ortrugo blend. Of course, the traditional food pairing in Emilia-Romagna would be fatty prosciutto or gnoccho fritto. But I'm not the only one noticing how wonderfully these wines work with pizza.
"You want a wine with some texture, a bit of acidity, and something that will stand up to the fats on the pizza," says Anderson. "Our pizza comes out with this beautiful char on the edge, and you also want something that will pair with those smokier notes." That's why his wine list is filled with frizzante Emilia wines: Lambruscos, yes, but also sparkling barbera and skin-contact whites. All are made in the natural, traditional way, and because of that they have a "ferment-y" flavor that goes perfectly with the naturally leavened, wild-yeast pizza crusts that are a signature at Una Pizza Napoletana.
Now I think I understand why, at the BYOP party, I found a lukewarm slice of Little Caesars palatable—for the first and last time in history. (Cue Mom: "Because you were drinking.") Fun, fizzy Lambruscos and their kin take me back to the pizza parties of my childhood, sure. But at their best, they are profound, surprising wines. They challenge your expectations and broaden your understanding of what sparkling wine can be. And maybe they remind you of how far you've come since those earliest Little Caesars days.